Source:
INICIO | En Tijuana Hay Rock (entijuanarevista.wixsite.com)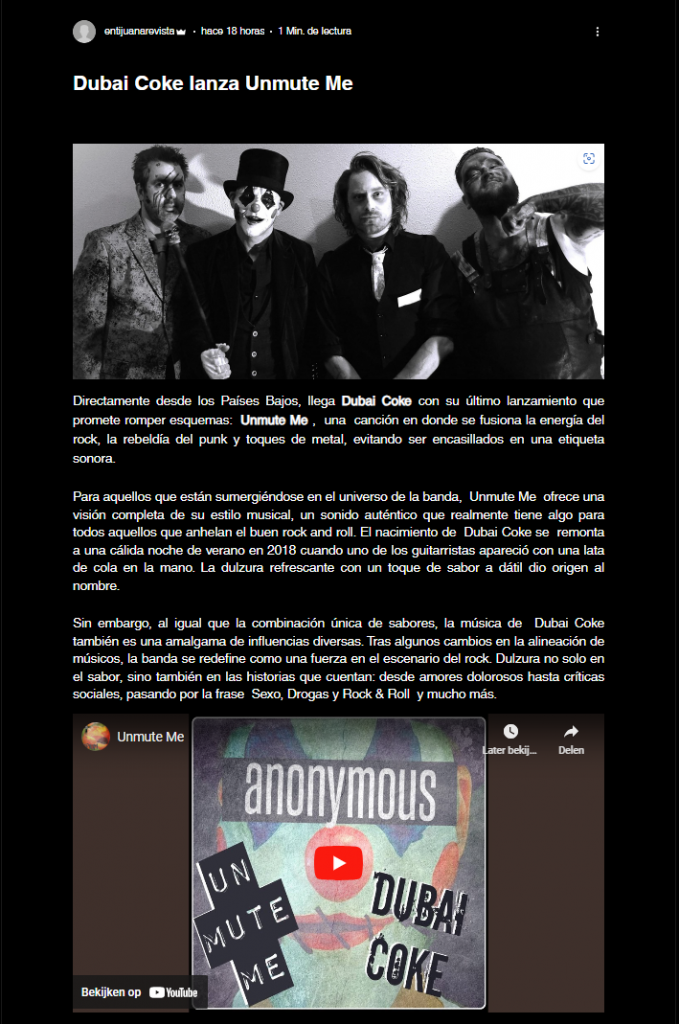 Google Translation:
Dubai Coke Launches Unmute Me


Directly from the Netherlands, Dubai Coke arrives with its latest release that promises to break the mold: Unmute Me, a song that fuses the energy of rock, the rebelliousness of punk and touches of metal, avoiding being pigeonholed in a sound label.


For those who are diving into the band's universe, Unmute Me offers a complete insight into their musical style, an authentic sound that truly has something for everyone who craves good rock and roll. The birth of Dubai Coke can be traced back to a warm summer night in 2018 when one of the guitarists turned up with a can of cola in hand. The refreshing sweetness with a hint of date flavor gave rise to the name.


However, just like the unique combination of flavors, Dubai Coke's music is also an amalgamation of diverse influences. After some changes in the lineup of musicians, the band redefines itself as a force on the rock scene. Sweetness not only in the taste, but also in the stories they tell: from painful love to social criticism, going through the phrase Sex, Drugs and Rock & Roll and much more.